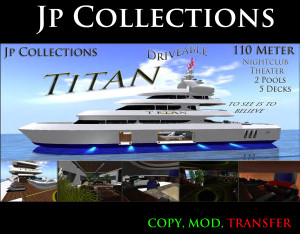 Jp Collections TITAN Super Yacht
HUD Controls For
• Bow Thrusters
• Cruise Control
• Navigation Lights
• Cabin Lights
• Bilge Pumps
• Water Lighting effects
• Horn
• Anchored
• Start And Stop
• Engine Gears
• Kill Boat for easy cleanup
• Camera Controls
Specifications

​
• Sits 6 When Driving
• 110 M Long
• 20 M Wide
• 1796 Prim Full
• 32 Temp
The Boat includes 2 Models One Nightclub Version and One Family stateroom Version
Included In the package is

​



• Personal Submarine That sits 2
• An Offshore Cruise Boat Sits 5
• Sea Plane Sits 2
• Inner tubes
• Dingy
• Motorcycle
ALL Driveable/Flyable/ Pilotable
The Largest Driveable Yacht in second life to date!!!!
• 5 Decks Of Entertainment
• Full Wrap around Decks
• Huge 20×30 Nightclub W Lighting Effects and Fully Stocked Bar with Droppable Doors For Ocean Views
• Massive Movie theater and Snack/Restaurant/Galley
• 20×30 Storage/Garage/Workshop With Open able Dropping doors / Ramps To get Cars And Bikes From and To the ship, Able to Use in Motion
• Working Drop Down Projection Screen and Player
• Spacious Hot tub and Swimming pool
• Large Master Stateroom with Aquariums
• Helicopter Pad with Helicopter Rezor Includes 2 Seater Helicopter
Integrated Internet TV System
Watch Movies Surf the web Shop and Listen to your favorite Music on the go No Need for group land. Works though sim crossings and Anyplace In Second life (Must be on a V2 Viewer or Firestorm)
This boat has Many many more features to offer that simply can't be described with words. To find out more check the Main store in world VIA the link below and explore this massive ship We can't explain how beautiful it is in words You must See it to believe If you need questions answered A Jp collections service agent will be with you as soon as possible . WE strive for 24 Hours live Customer support.
Write A Review And get A Free Boat*. Message Josh Piper After You Submit the review