Be At the TOP with This Massive Private Yacht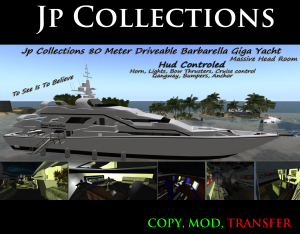 Barbarella 80 Meter Driveable GIGA Yacht
​
HUD Controls For
• Bow Thrusters
• Cruise Control
• Navigation Lights
• Cabin Lights
• Bilge Pumps
• Water Lighting effects
• Horn
• Anchored
• Start And Stop
• Engine Gears
•Gangway
•Fenders/Bumpers​
• Kill Boat for easy cleanup
• Camera Controls
Barbarella 80 Meter Driveable GIGA Yacht​•Fully drivable
•Camera HUD that allows for multiple views for docking and driving
•Functional sliding doors and windows as well as privacy screens
​
Jp Collections has done it again This Yacht is Massive at 80 meters long and 30 High 20 wide this Giga Gigantic yacht will be sure to get you the attention and complements you deserve
The outside of the boat is Totally Sculpted with Sleek Lines and Sharp Looks
To board the yacht there are 2 gangways One port one starboard witch lead up the the deck
Once on the yacht you will notice the open style of the boat with high ceilings and large rooms
From the aft to bow there is an array of amenities including fully stocked bars and seating is plentiful
The yacht boasts 4 floors full of things to see and do the main level is the formal and large seating area to host parties and gatherings with a fully equipped bar that gives drinks and snacks on touch
This area is full of plant life and smooth sleek corners
Forward of this area is the master stateroom with office space, seating as well as a fully functional naughty bed.
One level down hosts the galley with a full array of cooking and preparation tools to make any meal dockside or abroad it hosts plenty of seats for your crew or guest to dine and a round lounge in front to the aft of this area hosts the drawing or art room where you can go sit and relax and think up some of your most wildest creations and bring them to life .
Even more aft of this area is the water filtration system that supply's your yacht with fresh drinking water at sea further aft is the engine room and control room for the bow thrusters and electrical generation the twin cat motors are large the size of a mini car each an puts out more than enough power to get this massive yacht up to a top cruse speed of 20 knots.
From there we make are way up to the 3rd level which is more of the captain's lounge with seating and fully stocked bar towards the bow of the boat is the second command bridge although this bridge is non-functional the horn and seats work for your guests as you cruise around the sea to the left ( Port) or right (starboard ) of this area is the outside docking stations (Non-operational) with a working horn.
​
One level up from this area is the main bridge where you pilot your boat with seating for your guest behind this area is the helicopter landing pad that will rez a helicopter on touch and allows you or your friends to fly to clean up after simply delete or type in local chat kill all one word ..
This boat has an auto attach system that will auto attach on sit and detach and re rez on stand making her very easy to drive
​
Please visit us in world follow the link below to teleport to the main store
​
Barbarella: Prims
Non-Temp:1684
Temp:32