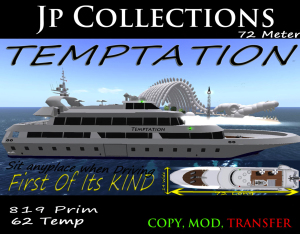 Jp Collections Temptation Yacht
​
HUD Controls For
• Bow Thrusters
• Cruise Control
• Navigation Lights
• Cabin Lights
• Bilge Pumps
• Water Lighting effects
• Horn
• Anchored
• Start And Stop
• Engine Gears
• Kill Boat for easy cleanup
• Camera Controls
This massive ship is 70 meters long by 16 meters wide. The following will be your guide to the many features contained on this massive ship.
​
Upon your first entrance at the sides of the ship you'll find yourself in a quite relaxed area, there is a pool table as well as a wraparound couch with a TV right here. There is also a second TV on the other side of the pool table.
Depending on the side you entered there will be a kitchen to either your right, or your left. Here you can do anything you need using the culinary arts on board the ship. Prepare wonderful meals or simple snacks, whatever the situation calls for.
​
Continuing forward still you'll be greeted by a staircase with two couches placed in front of a double door. Their doors lead to the front lower deck, here there's three lounge chairs, as well as the two front mooring lines. It's the perfect area to get sun on the ship and still have a small chance of getting sprayed with the cool sea mist.
​
Returning back to the recreation area of the first floor you'll see two stair cases both going up, one on the left leads to the rear deck and bar. The bar is fully stocked with almost anything you'd ever feel like drinking on the seven seas. The rear deck had tables and chairs for more passengers.
Going back to the right side of that staircase it comes up and around to another seating area. To the right is the rear deck of the second floor, here there are three more deck chairs, as well as a miniature kitchen, with a sink, oven, and grill.
​
Moving to the left there are three doors down this hallway. The ones to the left and right lead to the spare bedrooms, both very roomy and with anything that your guests will need overnight, bed, nightstands, and even a computer and TV in one of the rooms, a TV in the other.
The door to the front is the master bedroom. Here there is a much larger bed, as well as more furniture. There are drawers, and a large fish tank, as well as a personal TV.
​
Returning to the stairwell there is one last staircase leading up. It has a protective metal sheet installed that can be rolled back; this will keep water from getting into the inside of the ship if it happens to be raining, or if there are heavy waves.
​
Up here there is of course more seating and a small dingy. The front of this contained area has the door to the bridge.
Maximum Operational Capacity: 48
Maximum Stationary Capacity: 100
​
​
Prim Count 819 Full
Prim Count 62 Temp Rez*