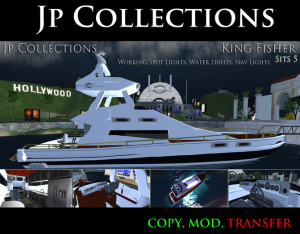 (All Boats are now fully Mod, except for their scripts.)
Version 4 Scripts
Every aspect of the boat can now be Controlled VIA HUD
* Bow Thrusters
*Cruise Control
*Lighting
*Gears/Engine
*Kill Boat For easy Cleanup
JP Collections King Fisher (Sporty Fishing Yacht)
Length 30 M
Beam 9 M
Height 12 M
Sport Fishing Boat with Many Features Including Working water Lighting, Working Spotlight, And Navigational Lights, All controlled by the 12V DC panel
Inside is a full galley seating and a fully functional naughty bed
There are 4 sit spots for you and your friends and one in the aft for fishing
Take this sporty yacht out to sea and use your 7 seas fishing gear to catch plenty of fish and other goodies
Realistic wake and sounds and bow thrusters makes this boat a dream to drive you must see this boat in our store Follow the link below to see it in world
King Fisher Prims
Non-Temp 285
Temp 31
How to use the lighting system simply click the switch on the DC panel that controls the lights you want to activate and click again to turn them off
To start your engines simply sit on the drivers prim behind the captains seat and accept the attachment then type start into local chat Type stop to turn it off
At times you will find you can't move if this happens simply type stop and start again to reset the engine
What is Temp Rez?
Temp rez is A Option in second life to enable prims to not count on your Land Prim count
Normally A temporary prim will only stay rezed in world for 45 seconds before it will automatically delete itself
A temp Rezzor will Re rez the temporary Primitive every 40 to 43 seconds before the temp one deletes Thus letting the primitive to remain out in world and not count on your land prim count
You will notice a slight flicker every time the rez system re rezes the new object
This is useful to allow people with a limited amount of primitives to have full use of there Object this case there boat/yacht
Please note Not all Sim's allow temporary rezing This is why we include a non temp version that will count 100% of the prims on your land Be sure to check your covenant on your land to see for any restrictions
Please Note Temp rez is added to the boats as an Option and may or may not work depending on the server that in witch you're trying to rez the boat in.
Linden labs is updating there servers and the newer servers do not allow temp rez to function properly.
We Do Not provide refunds for the boats as they are not transfer we will however Refund If you accidentally purchase 2 of the same boats for yourself you must provide transaction information for the refund
When you purchase this boat you agree to not hold JP Collections accountable if the temp rez feature wont work on your Land and or if you don't have enough prims for the full version