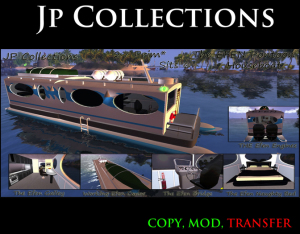 Jp Collections EFEN Pontoon Houseboat
Perfect For A 512 Sqm Lot as A Home
Features/ Specs
* 27 Prims Temp version
* 256 Prim Full
* Sits 6 Plus you
* Bow thrusters
*Auto attaches and detach
*Auto rez on stand
*Wheelchair Assessable
*Fully Functional V2 Naughty bed
*Working TV
* Window Tint System with Controller
* 10 Stage Speeds
* Lockable Doors
_________________________________________
The EFEN Pontoon Houseboat:
Be the Captain Of this EFEN boat, At Under 30 Prims with the temp system You can store this baby about anyplace And the full prim Version will fit on a 1024 Sqm Lot . This baby is Equipped with the Latest Jp collections Gear From the Emergency Safety raft and the Super Smooth Canoe This is the First Wheel chair accessible Boat in sl Geared to Every age group She is Small But mighty , Hosts all amenities of a comfortable Home in a Small But sleek Looking boat , At an affordable price That wont hurt the wallet Makes this the most Full packed Fun Boat In its class Be sure to check out the boat at the Jp collections Boat yard The link is Posted at the Bottom of this Page ( Click for a SURL that will take you directly to the store )
__________________________________________
Window Tint System:
To use the window tint you simply Click the Remote Control located In the Living room area on the table it resembles a TV Remote control and will allow you to change the Window tint from 0 to 100 % Useful to Keep Them Wandering Eyes Off you
__________________________________________
Locking Doors:
To lock the doors and Wheelchair ramp simply type Lock to unlock Type Unlock
__________________________________________
Bow Thrusters:
To enable thrusters simply Type in local chat Thrusters this will enable you to Manoeuvre the boat left to right Making docking a breeze To Re enable Drive mode Simply type Engine In local chat
______________________________________
The Tv System is Amazing It works ANYplace in sl No need for group land Simply click and use like a normal computer Youtube facebook anything you want Its amazing
_________________________________________
Please Note Before you go leave negative feedback please contact Josh piper He will Be Glad to help you with any issues you may have
EFEN Boat :Prims
Non-Temp: 256
Temp:27
Additional Notes:::
What is Temp Rez?
Temp rez is A Option in second life to enable prims to not count on your Land Prim count
Normally A temporary prim will only stay rezed in world for 45 seconds before it will automatically delete itself
A temp Rezzor will Re rez the temporary Primitive every 40 to 43 seconds before the temp one deletes Thus letting the primitive to remain out in world and not count on your land prim count
You will notice a slight flicker every time the rez system re rezes the new object
This is useful to allow people with a limited amount of primitives to have full use of there Object this case there boat/yacht
Please not Not all Sim's allow temporary rezing This is why we include a non temp version that will count 100% of the prims on your land Be sure to check your covenant on your land to see for any restrictions
Make Sure Show Avatar In Mouse Look Is Checked Under Preferences
Please Note Temp rez is added to the boats as an Option and may or may not work depending on the server that in witch you're trying to rez the boat in.
We Do Not provide refunds for the boats as they are not transfer we will however Refund If you accidentally purchase 2 of the same boats for yourself you must provide transaction information for the refund
When you purchase this boat you agree to not hold JP Collections accountable if the temp rez feature wont work on your Land and or if you don't have enough prims for the full version