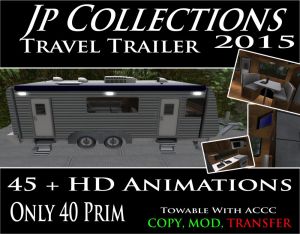 JP Collections Mesh Travel Trailer 2015 Edition
Over 2 years of work put into this build from Textures to design to Animations
Over 45 High Quality Looping animations
Couples, Dancing, Relax, Lay, Sit
Towable with ACCC trucks and cars that have the Ball Hitch
(To tow your Trailer Just back up with your ACCC vehicle and position the trailer Hitch like you would any other ACCC trailer and then once attached just right click the trailer and  under edit Check the box Physical .
This Trailer has many great features including working laptops tv,s  2 entrance  with double screen doors,  tons of animations and can sit up to 6 people at once! Even when in tow!
To view the trailer please visit the Jp Collections Mainstore today!