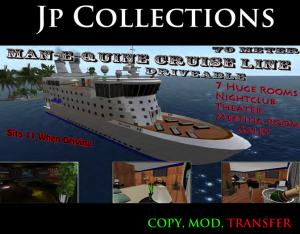 (All Boats are
fully Mod, except for their scripts.)
Version 4 Scripts
Every aspect of the boat can now be Controlled VIA HUD
* Bow Thrusters
*Cruise Control
*Lighting
*Gears/Engine
*Kill Boat For easy Cleanup
Write A Review And get A Free Boat*. Message Josh Piper After You Submit the review
Man-E-Quine Cruise lines
6 Staterooms
1 Large Master Stateroom
Nightclub
Movie Theater
Swimming pool and hangout
Conference center
3 Lounges
This Ship is amazingly detailed with a full array of amenities that makes this boat complete you can use her as a luxury cruise line and charter it out to friends or customers you can turn it into a floating hotel with 7 large rooms. The layout of the staterooms are of a real life ship with the same look and feel you would think you're on a cruise ship in real life.
3 levels of beauty the lower hosts the Nightclub with bartender and Scrolling dance floors, dance generator and seating for your guests the bar is fully stocked to provide you with drinks and snacks
The forward compartments host 3 large staterooms and a galley where you can enjoy your meals ahead of this area is the theatre and concession stand. The theater is fully operational and has plenty of seating.
To the aft of this first deck is a lounge area with deck chairs to relax in and soak in the SL sun
From this deck upwards via the elevator this area has 3 large staterooms and access to the emergency dingy in the inevitable case the ship is sinking witch we hope it won't. From this area forward is access to the forward deck with plenty of lounge deck chairs for you to enjoy this area also has a nicely laid out lounge area with plenty of seating for you to enjoy .
From this second floor upwards via the elevator is the top deck this area has the large swimming pool with plenty of seating for your friends and guests go swimming or hang out in the lounge chairs great views as you cruise around the ocean.
The aft of the pool is the master stateroom or VIP suite this has a His and her sink with a double shower telescope and working TV's each room is equipped with working naughty bed and dispensable Champaign bottles .
Forward of the top deck is the ships bridge where a meeting area is held as well as the controls to drive the ship ….. That's right this massive ship drives… and is equipped with the latest version 4 scripts with a HUD option for features that include water lighting nav lights cabin lights horn anchor cruise control bow thrusters and many more features
You must see this boat in world to enjoy the size and beauty Please click link below to see it in world and explore the 3 levels of greatness.
Any of the green Pose balls Aboard the Ship can be used when the boat is in motion so you can carry plenty of guests
Man-E-Quin : Prims
Non-Temp:1784
Temp:32
Additional Notes:::
What is Temp Rez?
Temp rez is A Option in second life to enable prims to not count on your Land Prim count
Normally A temporary prim will only stay rezed in world for 45 seconds before it will automatically delete itself
A temp Rezzor will Re rez the temporary Primitive every 40 to 43 seconds before the temp one deletes Thus letting the primitive to remain out in world and not count on your land prim count
You will notice a slight flicker every time the rez system re rezes the new object
This is useful to allow people with a limited amount of primitives to have full use of there Object this case there boat/yacht
Please not Not all Sim's allow temporary rezing This is why we include a non temp version that will count 100% of the prims on your land Be sure to check your covenant on your land to see for any restrictions
Make Sure Show Avatar In Mouse Look Is Checked Under Preferences
Please Note Temp rez is added to the boats as an Option and may or may not work depending on the server that in witch you're trying to rez the boat in.
Linden labs is updating there servers and the newer servers do not allow temp rez to function properly.
We Do Not provide refunds for the boats as they are not transfer we will however Refund If you accidentally purchase 2 of the same boats for yourself you must provide transaction information for the refund
When you purchase this boat you agree to not hold JP Collections accountable if the temp rez feature wont work on your Land and or if you don't have enough prims for the full version